Protective CoatingsITALIAN QUALITY.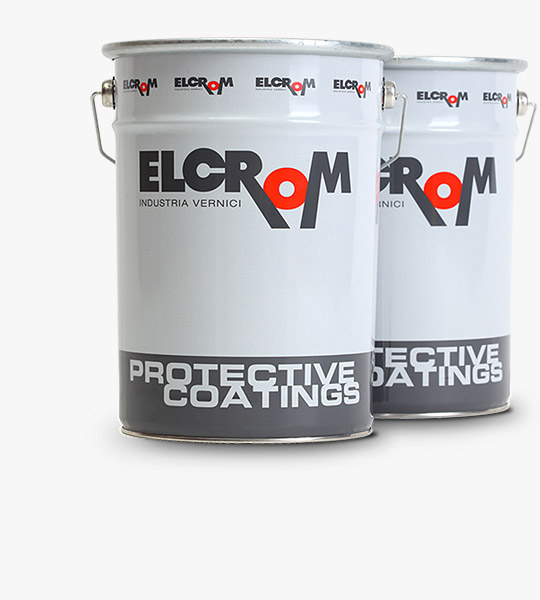 Protective Coatings
There are a lot of works, both on the domestic territory and abroad, in which ELCROM products have been used for their anticorrosion protection. Plants exposed to extremely severe weather and environmental conditions, metallic frameworks for which the high resistance need had to be combined with the aesthetical enrichment and other works in the anticorrosion field, testifies that the use of ELCROM products is a guarantee of quality, resistance and value.
Download presentation brochure
ELCROM proposal:
specific products and painting systems, widely tested, approved or complying to the most strict specifications;
a solid expertise gained in the field, always beside the users;
a continuous development of new technologies in Laboratories;
a constant technical assistance to the Customers;
it is an important proposal that makes ELCROM an ideal partner for every client, the most demanding one as well.
The choice of the painting system is a crucial factor to the end of anticorrosion protection of the surface and its durability; there are a lot of components involved in the definition of the most suitable one. UNI EN ISO 12944 standard, generally recognized all over Europe, is the guideline that ELCROM choose to follow. The wide fan of solutions, different products and different total film thickness of the painting systems, that its technical/commercial personnel is able to suggest, is the result of the pursuance of this international standard aimed at meeting the different technical and performance needs of the anticorrosion field Customers.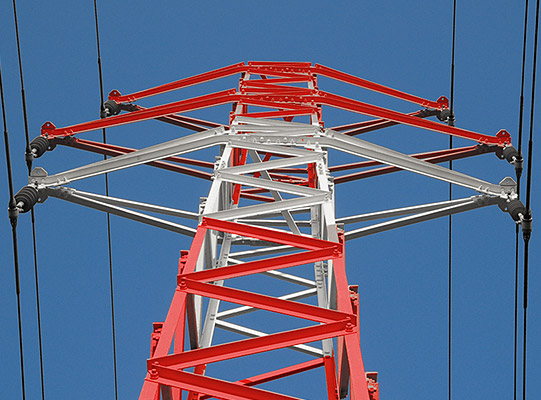 DURABLE PROTECTIONIN RURAL ENVIRONMENT
ATMOSPHERIC CORROSION CLASSES C1 AND C2
The atmospheric corrosion classes C1 (very low) and C2 (low), mentioned by the EN ISO 12944-2 standard involve outside environments with a low pollution level, mostly rural, or clean atmosphere inside buildings such as schools, hotels, storage units/warehouses or sports facilities. Often in these environments besides the primary need of the substrate protection there is also the need to use easy-to-apply and easy-to-maintain painting products that can guarantee, over the time, a good aesthetic appearance. ELCROM traditional painting systems are based upon alkyd, chlorinated-rubber and vinyl primers and finishers. They show total film thickness included between 80 and 160 micron, varying according to the required durability (EN ISO 12944-1). Thanks to the moderate production costs and the good performances offered, ELCROM painting systems are a more than suitable solution.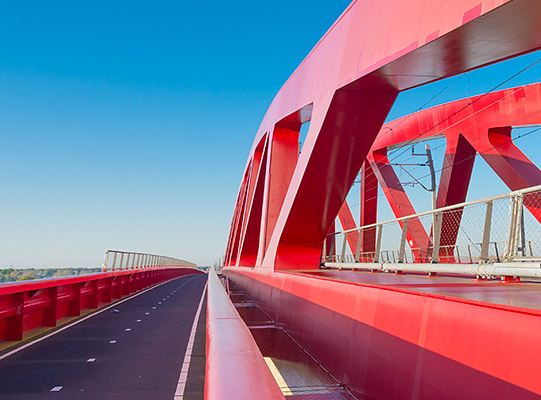 TOTAL AND LONG LASTING PROTECTIONIN URBAN AND INDUSTRIAL ATMOSPHERE
ATMOSPHERIC CORROSION CLASS C3
Urban and industrial environments with low pollution level, coastal areas with low salinity level or inside atmosphere of production places with high humidity and low pollution (breweries, dairies, food industries and so on) belong to the corrosion class C3 (middle). The ELCROM proposal for these employments, in compliance with EN ISO 12944-5:2007, is very wide and includes the use of middle- or high-solid content epoxy primers or, in some cases, the application of zinc rich primers together with epoxy or epoxy-vinyl undercoats and at the end with polyurethane, epoxy or chlorinated-rubber finishes. These are therefore painting systems mostly based upon two-component products, with total film thickness from 120 to 200 micron that can be obtained through the application of two or three coats. All these solution are equally solid, different, but still adapted to the Customers' real needs.
HIGH PERFORMANCESIN SEVERE ENVIRONMENTS
ATMOSPHERIC CORROSION CLASS C4
ELCROM can offer a wide range of high performance painting products, studied and developed over the time with the aim to achieve high resistance in particularly severe environments, too. Therefore, for the treatment of steel frameworks placed in industrial environments characterized by high pollution, in coastal areas with moderate salinity or inside chemical plants or dockyards, corrosion class C4 (high), the Company can offer perfectly suitable solutions. Coating systems, with total dry film thicknesses between 200 and 280 micron, based upon zinc rich primers, both organic and inorganic, epoxy undercoats with barrier effect and easy-to-maintain polyurethane finishes, that combine high resistance to weathering agents with very good aesthetic performances, are a guarantee of a very good final result.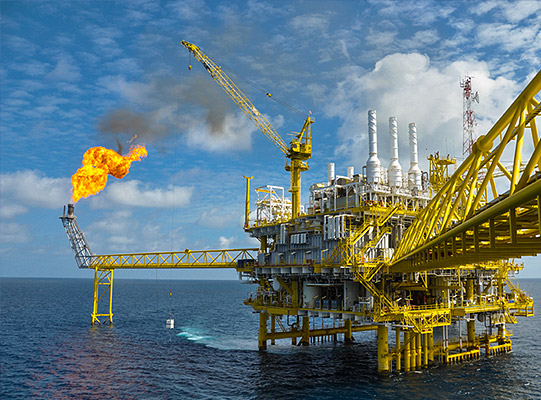 HIGHEST PROTECTIONIN EXTREME CONDITIONS
ATMOSPHERIC CORROSION CLASSES C5-I AND C5-M
The best of its technology is what ELCROM offers to its Customers for the anticorrosion protection of the steel in coastal areas with high salinity level or industrial areas with very aggressive atmosphere, corrosion classes C5-I and C5-M (very high Industrial and very high Marine). The proposal includes treatments with considerable total film thickness of the whole painting system, between 200 to 500 micron, based upon primers with a high content of metallic Zinc, epoxy and epoxy-vinyl undercoats, formulated using also micaceous iron oxides or aluminum flakes to considerably increase the barrier effect, high film thickness epoxy and polyurethane finishes and, in some cases, very high performances epoxy, polyurethane or modified special linings for immersion service as well. Protection systems with very high performances, both for corrosion resistance and durability over time, can satisfy every Client, the most qualitatively demanding one as well.
Protecion from High temperatures
SILICONE COATINGS
During their life, many industrial steel structures are subject to operating conditions at high temperatures or temperatures exceeding environmental standards, which therefore require an higher performance level than general anticorrosion protection over time. Consequently, ELCROM offers a range of silicone coatings that are heat-resistant at 250°C, 400°C or up to 600°C. For uses at lower temperatures, up to 250°C, top coats can be produced in a variety of appearances and colours, whereas, for higher temperatures, "only" aluminium, black or anthracite grey versions guarantee the best results. All the materials used are highly compatible with inorganic and organic zinc rich primers, which are recommended where maximum and excellent anticorrosive protection is required for use in aggressive industrial or marine environments.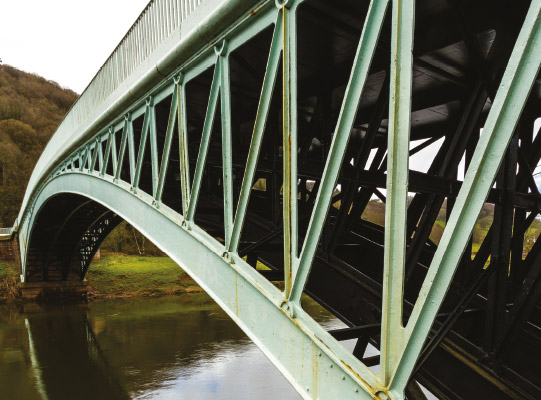 Long lifeto constructions
MAINTENANCE CYCLES
On an industrial steel structure that has been in use for many years, it is essential and highly beneficial to performe with an effective maintenance treatment, which will protect it from any type of corrosion and guarantee durability over time. In such cases, ELCROM recommends the use of "surface tolerant" high solid epoxy coatings, featuring excellent adhesion to all surfaces, even those manually prepared. They provide high protection even in aggressive environments and allow easy high-build application due to their low solvent content. Therefore, are available high-protection anticorrosive primer, undercoats with barrier effect and coloured coatings with appreciable aesthetic appearance.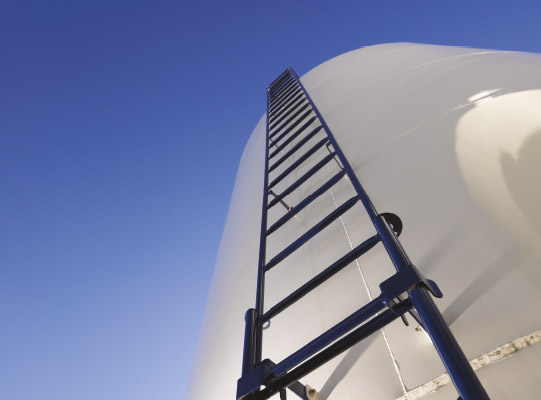 A SPECIAL COATING FOREVERY CONTAINMENT TANK
HIGH-PERFORMANCE COATINGS
ELCROM offers its experience and technologies also in the field of high-build protective coatings free from organic solvents, for application onsite and in workshops, for both steel and concrete structures, especially where constant immersion in freshwater, seawater or industrial water is required. Effective protection is also available for treating structures that contain or transport drinking water, as well as for machinery, tanks or other surfaces in contact with food. The range also includes a special epoxy coating for continuous contact with crude oil, diesel, fuels and various petroleum products.
Italian quality
CERTIFICATIONS
ELCROM has always "Quality" as the fundamental guideline of its activities: quality in processes and quality in products and services. This is proved by its certifications that are continuously renewed and extended, primarily UNI EN ISO 9001:2015 certification, which guarantees the quality of company's products throughout all production stages. Furthermore, an additional guarantee of quality and service for its Customers is the certification of the various painting systems at recognised external Laboratories. This is applied to the protection of steel structures, in compliance with UNI EN ISO 12944, to special coatings in contact with drinking water and food, in compliance with Italian and European regulations, or for tailor-made products and services to meet the specific requirements of Customers.
WOULD YOU LIKE TO RECEIVE MORE INFORMATION?
Our team of experts is ready to answer all of your questions