THE ELCOFAST WORLD GOES NEW
The partnership with the JColors sister company, absolute reference point among producers of concentrated coloring pastes, has already generated the first winning result: ELCOFAST, the tinting system dedicated to industrial distributors and full expression of the core business Elcrom, is now proposed on the market in a more advanced and performing version.
---
"ELCOFAST IS APPRECIATED FROM THE BEST ITALIAN DISTRIBUTORS"
WHAT IS ELCOFAST?
ELCOFAST is a polyvalent tinting system, based on 24 concentrated color pastes, made with high resistance selected pigments that allow the reproduction of primers and top coats, by mixture with specific converters, in thousands of colors that the industrial market requires.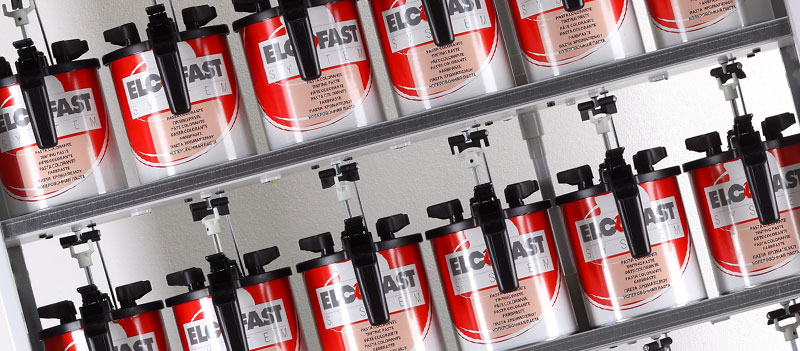 ELCOFAST is appreciated by the best Italian distributors for its completeness and flexibility; directly installed in specialized shops, it is usable for the treatment of any type of metal support.
ELCOFAST is synonymous with Warranty and Total Quality; all the solutions of the range compliance with the regulations in terms of safety and environment. The converters and the color pastes are made by automated production processes and optimized over the years; the products are all tested with the use of advanced technology systems and with the help of experienced and prepared staff. Managerial skills and flexibility of the structure allow to offer all customers a tailored response.
The versatility of the system, the high quality of a diverse range and wide colormetry, allow the partners to win and retain their customers acting as a reliable supplier, able to offer technical solutions and a fast, functional and effective service in all circumstances.
WOULD YOU LIKE TO RECEIVE MORE INFORMATION?
Our team of experts is ready to answer all of your questions