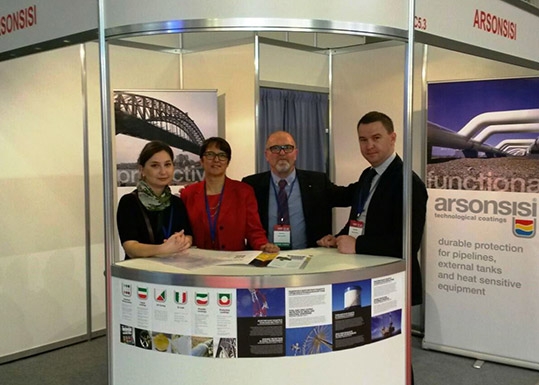 Corrosion Protection 2016
Тhe Corrosion Protection exhibition has been held in Saint Petersburg for more than 35 years and it is dedicated to important science-technical, economical and ecological problems related to the corrosion protection of metals and materials in different fields of the industry.
The sisters companies, Arsonsisi and Elcrom, make paints for everything that can be painted and for each industrial sector.
The choice of the painting system is a crucial factor to the end of anticorrosion protection of the surface and its durability; there are a lot of components involved in the definition of the most suitable one.
The Protective Coatings line offers a variety of specialized cycles approved by both private and public institutions: organic and inorganic zinc-rich primers, anticorrosive primers, one and two-component coatings, barrier effect intermediate coatings, surface-tolerant coatings for maintenance cycles, epoxy finishes with high chemical resistance, polyurethane finishes, BASEPOX® a range of functional pipeline powder coatings FBE and multilayer for the gas and oil pipeline sector.
Arsonsisi and Elcrom present their full range of Protective Coatings at the Expoforum in St. Petersburg from 17 to 20 May 2016, Pavilion G – Booth C 5.3.
Vuoi ricevere maggiori informazioni?
Il nostro team di esperti è pronto a rispondere ad ogni tuo quesito